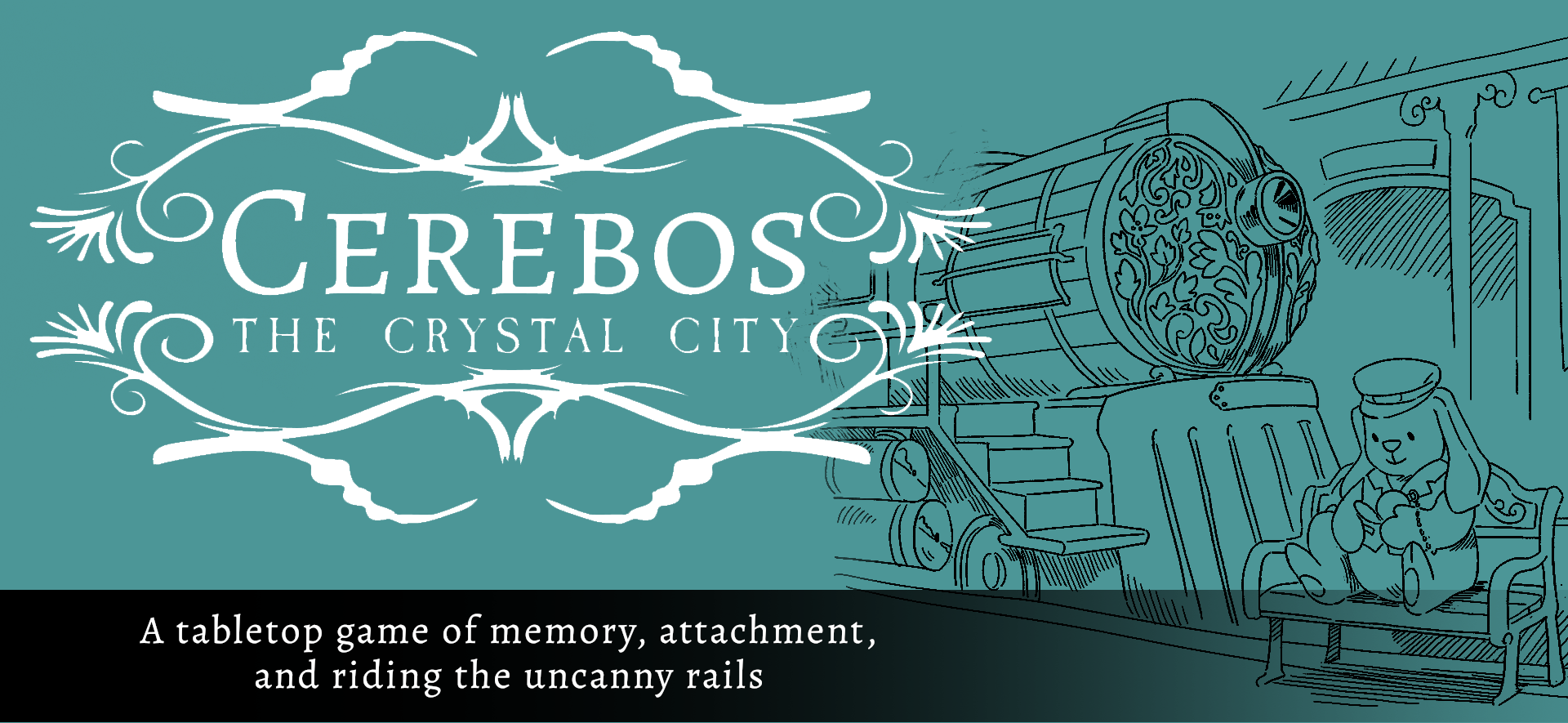 Cerebos: The Crystal City
"The concept of 'strange lands' (like that of 'home ground') has some holes in it, presents new questions. Are 'strange lands' an objective geographic reality, or a mental construct in constant flux?"
—Robert Bolaño, "Exiles"
Cerebos: The Crystal City is a tabletop roleplaying game about exploration and self-actualization. It's also about crossing a surreal desert by train, visiting improbable cities, and experiencing sublime understanding among uncommon vistas. It's about homesickness and lumpy beds and brand new stew and finding a coda for the broken song in your heart.
The player characters are travelers from the City by the Sea, bound to mementos of the past. Even after their identities have been worn away by the endless desert, they seek Cerebos. Through motion, reflection, and the actions of their fellow passengers they rediscover who they were and decide who they will be when they reach the Crystal City.
The travelers meet at a railway terminus. They experience flashbacks, overcome unexpected events, and ride the rails to the world's beautiful imperfections. Trust doesn't come easy when the dining car is infested with chandler beetles and the sister cities of Orm and Calyx are competing for sacred fools, but maybe it's the only thing that will keep everyone going.
The train's conductor moves the travelers along, setting the journey's tone and modifying the rules. An adventurous conductor guides the travelers through a world of danger and megafauna, cataloging the limits of human experience, while kindly ol' Mr. Wumpus is more suited to cozy, rabbit-shaped hijinks.

Cerebos is inspired by games like Sunless Sea, stories of fantastic cities like Invisible Cities and Kino's Journey, Infinity Train, family road trips, prog rock album covers, purgatory, and quarter-and-mid-life crises. These stories fuel a robust engine for telling stories about change, hope, stability, risk, stagnation, want, giant crabs, vichychoisse, and comfortable cushions.
Cerebos: The Crystal City includes:
A 90-page core rulebook, in PDF, EPUB, and zipped HTML formats.
A pair of 26-page compendia of Stops and Events – fantastical cities, deadly tourist traps, fellow travelers, stone giants, and other happenings and destinations to punctuate the journey to the Crystal City. These compendia are provided in the form of random dice tables, print-and-play cards, and as image files for use in virtual tabletop apps.
Eight print-and-play quick reference cards, containing a summary of the framework of play (with page references to the relevant portions of the core rulebook) and listings of any special rules that apply to journey's chosen Conductor.
Printable and form-fillable character sheets.
Purchase
In order to download this game you must purchase it at or above the minimum price of $15 USD. You will get access to the following files:
cerebos-the-crystal-city-1.01-core-rulebook.pdf
8 MB
cerebos-the-crystal-city-1.01-core-rulebook.epub
10 MB
cerebos-the-crystal-city-1.01-events-and-stops.pdf
363 kB
cerebos-the-crystal-city-1.01-events-and-stops.epub
1 MB
cerebos-the-crystal-city-1.01-events-and-stops-cards.pdf
296 kB
cerebos-the-crystal-city-1.01-events-and-stops-cards.zip
36 MB
cerebos-the-crystal-city-1.01-playsheets.zip
3 MB
cerebos-the-crystal-city-1.01-summary.pdf
276 kB
cerebos-the-crystal-city-1.01-conductors.pdf
55 kB
cerebos-the-crystal-city-1.01.zip
9 MB