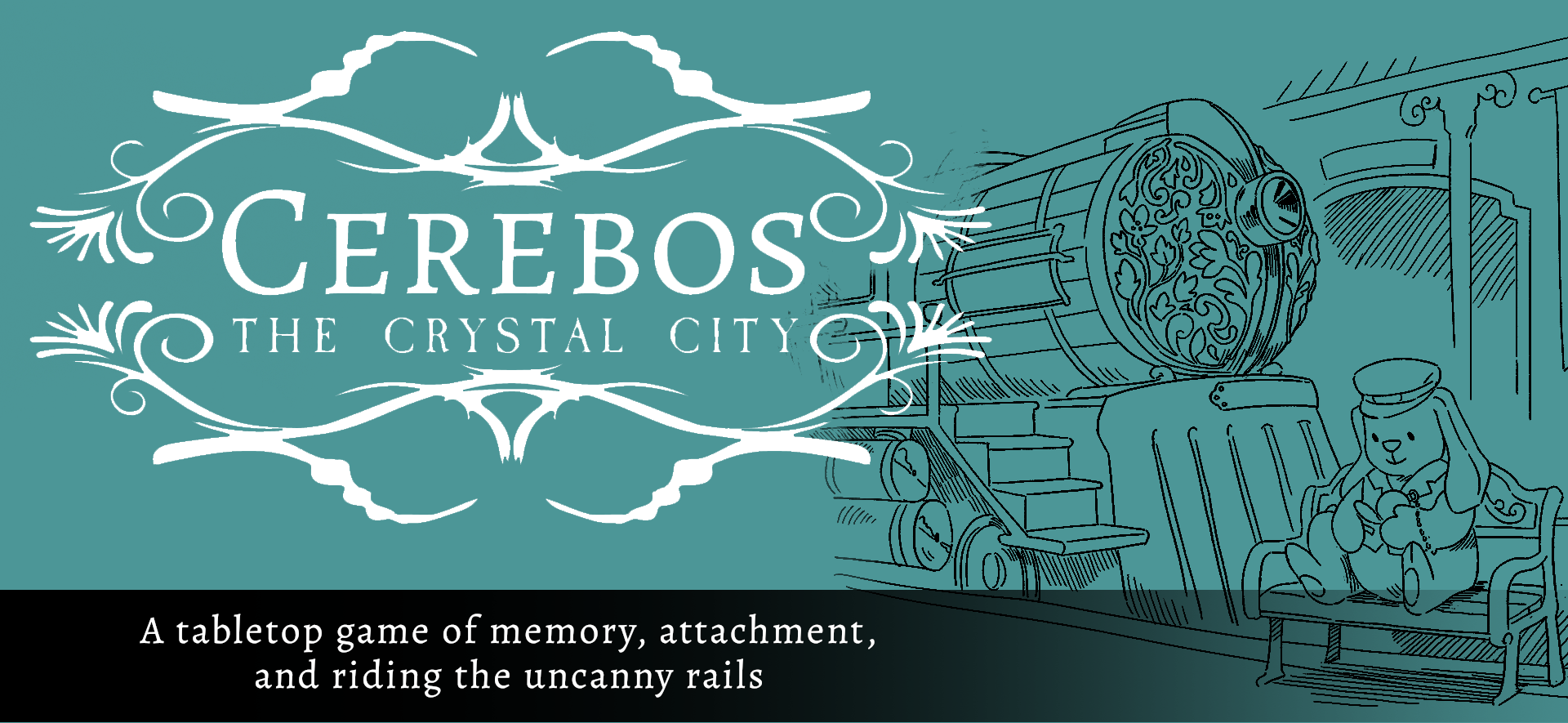 Cerebos: The Crystal City
The following changes have been made in Cerebos: The Crystal City version 1.01. Page numbers refer to the PDF version of the game.
Core Rulebook
Linked cross-references added to the Glossary (pp. 12–14)
Added one new illustration: "Figure 1.1" by Madeleine Ember. (p. 17)
"Releasing Touchstones" updated to clarify that re-rolling dice due to a touchstone's Momentum does not reduce that Momentum (though the roll's outcome might). (p. 51)
Ensured that the word "Stop" is always capitalised when used in its game-mechanical sense. (various pages)
Quick Reference Postcards

Updated text of Eye of the Desert Power of "Psychogrit" Conductor for consistency with core rulebook.
Files
cerebos-the-crystal-city-1.01-core-rulebook.pdf
8 MB
Nov 01, 2021
cerebos-the-crystal-city-1.01-core-rulebook.epub
10 MB
Nov 01, 2021
cerebos-the-crystal-city-1.01-events-and-stops.pdf
363 kB
Nov 01, 2021
cerebos-the-crystal-city-1.01-events-and-stops.epub
1 MB
Nov 01, 2021
cerebos-the-crystal-city-1.01-events-and-stops-cards.pdf
296 kB
Nov 01, 2021
cerebos-the-crystal-city-1.01-events-and-stops-cards.zip
36 MB
Nov 01, 2021
cerebos-the-crystal-city-1.01-playsheets.zip
3 MB
Nov 01, 2021
cerebos-the-crystal-city-1.01-summary.pdf
276 kB
Nov 01, 2021
cerebos-the-crystal-city-1.01-conductors.pdf
55 kB
Nov 01, 2021
cerebos-the-crystal-city-1.01.zip
9 MB
Nov 01, 2021
Get Cerebos: The Crystal City